DJ Dacha's Blog
Category: Dacha's Blog
Hits: 232
For all of you who like to use YouTube for music, here's the link of "House Music for Jazz Cafe" DJ Mix:
Category: Dacha's Blog
Hits: 668
Hey folks, here's DJ Mix "Move Your Body on YouTube
Category: Dacha's Blog
Hits: 1382
Hey people, I just decided to use some of my free web / radio hosting resources to start my personal radio station! Just because I can!
So, here's where you can hear my DJ mixes 24/7, and it's called like that: Dacha's House Mixes. Enjoy!
Category: Dacha's Blog
Hits: 1530
Hey! Some of you returning visitors will notice that this website is recently refreshed. I wanted it to have simple interface and navigation, but also, website is now much faster and totally mobile friendly.
There are many improvements, so let's see what is new here.
Audio player is updated to newer version. It uses good old flash player for Windows computers, but player will automatically switch on HTML5 version when you're visiting website from your smartphone, other mobile or media device, tablet, and from Apple products.
And, there is a new download button if you wish to download DJ mix right away
Maybe there's something else, you'll figure it out !
Category: Dacha's Blog
Hits: 1763
Here it is, latest Soulbreeder EP "How Deep Is Your Chakra", and let's start from the last track, instrumental of "You Have To Trip It". Enjoy deepness in electronic music....
Category: Dacha's Blog
Hits: 1466
New Deep & Jazzy DJ Mix is now on YouTube!!!
Category: Dacha's Blog
Hits: 1254
Hey my favorite deep house music lovers! I'll try to upgrade my website to modern template, I don't know how long it'll take for this.
The goal is faster loading time of my website pages. I already pumped it up to SSD drive, I know you noticed the speed improvement, but that upgrade will cost you some dough.
What? Yes, older DJ mixes will be periodically removed from my website as 320 kbps mp3 files. If you need 320 kbps mp3 hurry up and download all mixes that I'm done before 2006.
All mix pages will remain the same, without download links, but you'll be able to download my all 1999-2005 DJ mixes from hearthis.at website as mp3 128 kbps.
That's all for this time! Stay tuned, I'll post my latest DJ mixes as 320 kbps mp3 files very soon!
Category: Dacha's Blog
Hits: 2380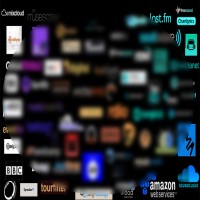 Yes, streaming never was, and it'll never be good for the music itself. It's just plain stupid, especially if your internet is not free/cheap, or if you're trying to be green and stay away from wasteful energy consumption. Oh yes, it's good for many greedy people in this corporate music industry, and probably some other sleazy money makers… But, it'll never be good for the music itself! I'll try to explain this in a very simple way. I'll use great invention in this example, and compare it with streaming, simple as that. What's that invention that was better than streaming?
Read more: Music streaming is stupid ! Video & Radio are OK, but repeatedly streaming single track over and...
Category: Dacha's Blog
Hits: 1524
Hello my favorite people! Just because you're always ready for more new good Soulful Deep House Music, I'm giving you a brand new mix for 2017, "I'm Gonna Hold On".